🚫
Rank Corrected - "Commander of the landing boat with the rank of senior midshipman as a major was born in 1977. After 20 years of service in the military unit № 40153 of the Caspian Flotilla, he was called by the military enlistment office of the city of Kaspiysk to the SVO zone. For his courage and bravery in performing a special military operation by order of the commander of this unit, he was presented to the award - the Order of Courage.

Zaur Omarov died while performing a special combat mission on Snake Island as part of a landing assault group. He was married and raised four children."
May 7, 2022 landing boat of project 11770 "Serna" of the Caspian flotilla, on which was captain 3rd rank Yuri Kukushkin (boat commander - Senior Midshipman Zaur Omarov) , once again delivered a shipment of weapons and military equipment to Zmeiny Island. Thanks to the competent actions and professionalism of the senior officer and crew, all tasks assigned to the landing boat were successfully completed. However, at the time of unloading the equipment under enemy fire at night, the landing boat was attacked by the Bayraktar-TB2 UAV, as a result of which Captain 3rd Rank Kukushkin and Senior Warrant Officer Omarov were seriously injured. Yuri Yuryevich fulfilled his military duty to the end. By Decree of the President of the Russian Federation Vladimir Putin dated June 6, 2022 No. 351, the feat of Captain 3rd Rank Kukushkin was awarded the Order of Courage (posthumously). The Order of Courage also recognized the feat of Zaur Makhatovich Omarov (posthumously).
The Video of the Strike is on TopCargo200 ID214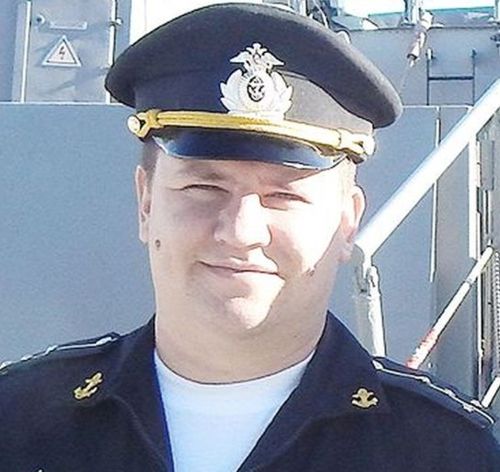 Rank: Senior Midshipman (3-star warrant officer)
Unit: Unknown Landing Ship, 106th Brigade of Surface Ships, Caspian Flotilla, Western Military District
Cargo ID: #176
Full Name: Zaur Mahatovich Omarov
Russian Name: Омаров Заур Махатович
Awarded: Order of Courage (ph.)