The Butcher of Bucha
Unit: 64th Separate Guards Motor Rifle Brigade, 35th Combined Arms Army, Western Military District
Given the above facts, on April 21, the UK Government added Lieutenant Colonel Azatbek Omurbekov to the list of individuals subject to personal sanctions for war crimes in Bucha.
On April 22, the Ministry of Defense of the Russian Federation issued a report which reconfirmed Omurbekov's direct involvement in the hostilities in Ukraine. The publication also mentioned that he was awarded the next rank of colonel, and his brigade was given the honorary status of "Guards" by personal order of Vladimir Putin. Thus, the Russian military command confirmed that Omurbekov was in command of the brigade and abetted the war crimes committed by his subordinates in the Kyiv Oblast.
Cargo ID: #32
Rank: Colonel
Full Name: Azatbek Asanbekovich Omurbekov
Russian Name: Азатбек Асанбекович Омурбеков
Awarded: Hero of Russia
"On July 13, 2022, it became known that Omurbekov was awarded the title of Hero of the Russian Federation and plans to install a commemorative plaque at the school where he studied."
Phone Number: +7-914-394-8515
Date of Birth: 17 September 1983 (age: 38 years)
Place of Birth: Nukus, Karakalpak Autonomous Soviet Socialist Republic (Uzbekistan)
Registered Address: Russia, Chelyabinsk Oblast, Chebarkul, Kashirina Street, 59, apt. 75
Passport Information: series 5004 № 241750, issued 26.10.2005 by the Department of Internal Affairs in Kupinskiy District (Novosibirsk Oblast)
INN (Tax ID): 742007805299
SNILS (Government ID): 133-588-075 74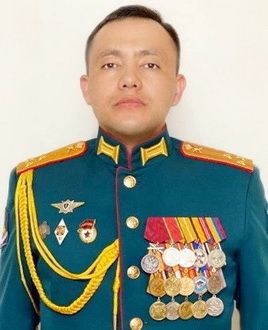 The InformNapalm team has a nice rundown of other Bucha war criminals.