FSB Officer
Unit: Interim Task Force No. 9, FSB Special Forces Center
ℹ️
Killed by a Russian sergeant with an AK-47 in a drunken shootout in Kherson.
Cargo ID: #373
Full Name: Sergey Alekseevich Privalov
Russian Name: Сергей Алексеевич Привалов
Date of Birth: 29 January 1974 (age: 48 years)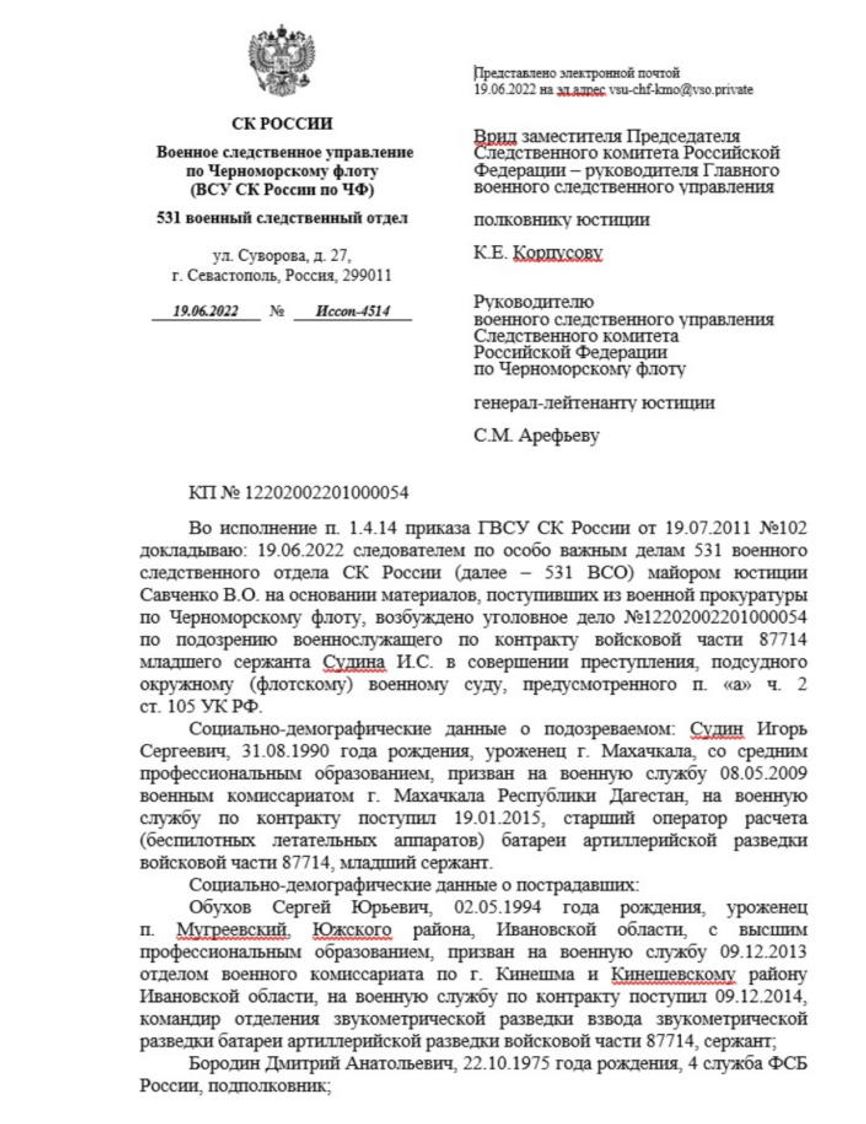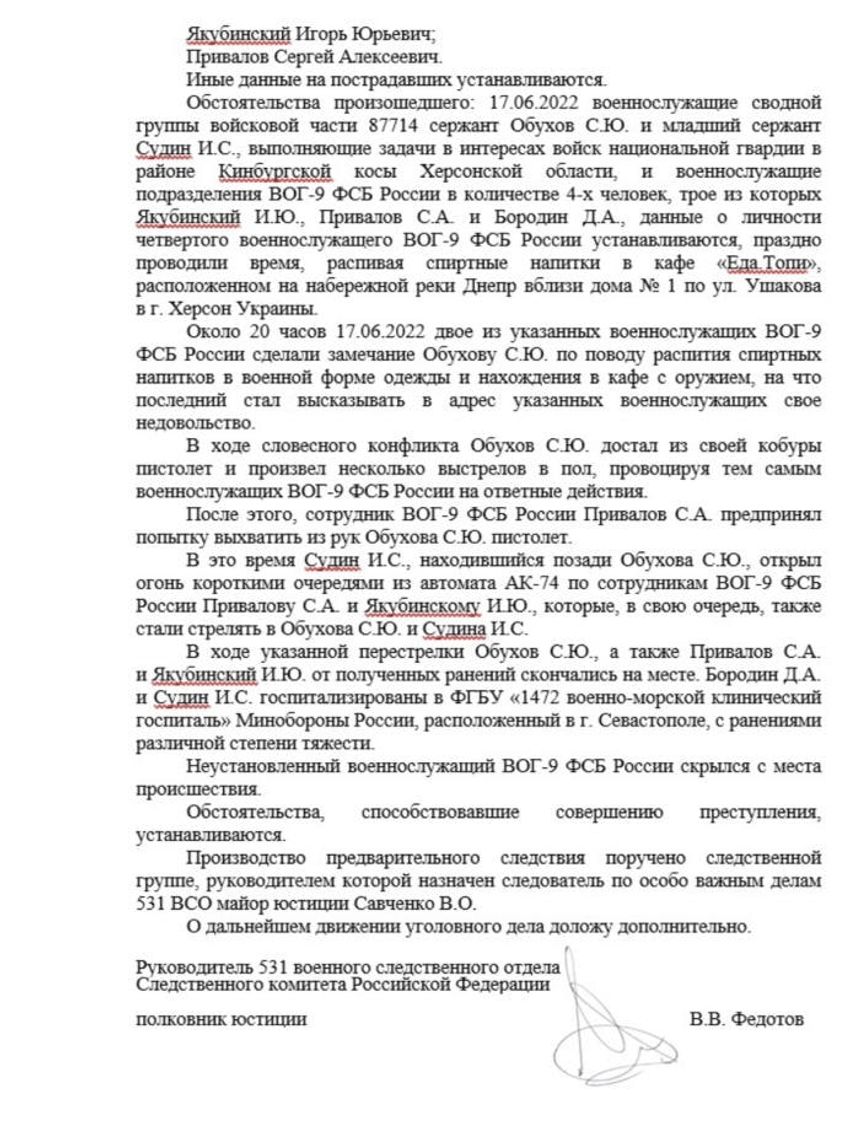 According to the above document, the shootout took place on June 19, at about 8 p.m. According to the UK, four servicemen of the Interim Task Force No. 9 of the FSB of Russia - Igor Yakubinsky, Sergei Privalov, Borodin D.A., and another employee, whose name is not named - entered the cafe "Food.Topi" on Ushakov Street, and found two contractors there, Sergeant Sergei Obukhov and Junior Sergeant Igor Sudin. According to the UK document, Sudin and Obukhov "spent time drinking alcoholic beverages."
FSB officers made a remark to Obukhov and Sudin about drinking alcohol in military uniform and with weapons, the report says. In response, Obukhov, according to the UK, took out a gun and shot at the floor. Privalov tried to snatch a gun from him, after which Sudin, "behind behind Obukhov," began shooting security forces with an AK-74 assault rifle, and Privalov and Yakubinsky returned fire.
Obukhov, Privalov and Yakubinsky, according to the documents, "died on the spot", and Borodin and Sudin were "hospitalized with wounds of varying severity in the Federal Naval Clinical Hospital No. 1427 of the Ministry of Defense of Russia, located in Sevastopol." The fourth FSB officer, whose identity is not specified in the documents, fled the scene.
28-year-old Obukhov and 31-year-old Sudin served in the Russian military unit known as the 8th Artillery Regiment of the Russian Black Sea Fleet.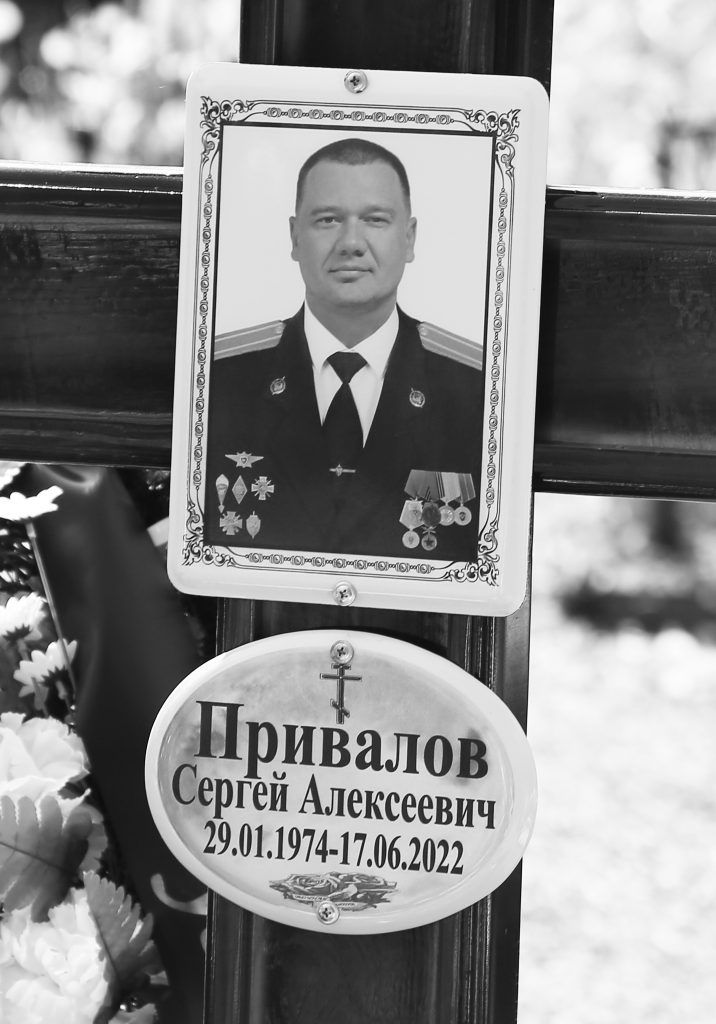 His status as an FSB officer is indicated by both his dress uniform and the medals on his chest.
In particular, the last medal in the top row is either: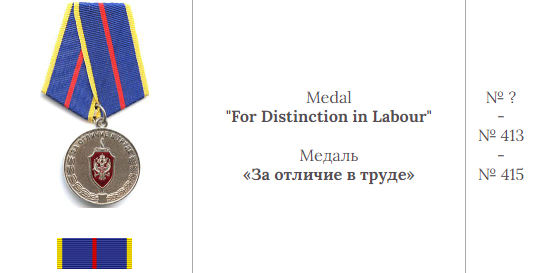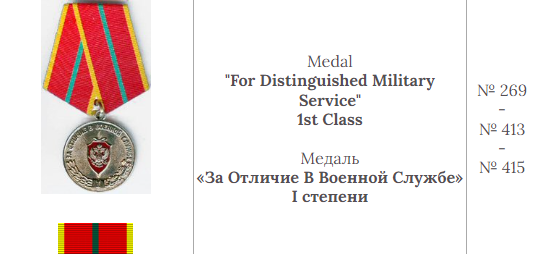 It's very difficult to be sure which one of those it actually is, given the image quality and the fact that it is black and white. Either way, they are both exclusive to the FSB.
He was also awarded the Medal of Zhukov: